Mind Game
(2004)
Written and directed by Masaaki Yuasa
Based on the comic by Robin Nishi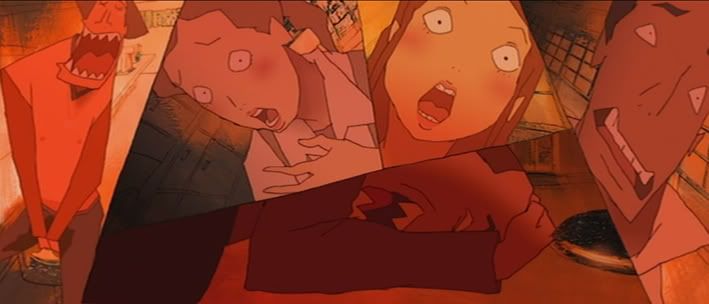 Mind Game
is a crazy, exuberant film which explores the endless possibilities of life. Some viewers might find it a bit of a headache with the surreal storyline, extremely fast-paced animation and constantly changing visual styles. But for those (like me) who like the artwork itself to tell a lot of the story, and are happy to let the impossible happen, it's a real treat. The primary animation is done by Studio 4°C, the studio behind 2006's
Tekkon Kinkreet
, and anyone who has seen
Tekkon
will instantly find the distinctive character design familiar.
The story revolves around Nishi, who runs into old school friend (and crush) Myon on the subway. Together they head to the yakitori restaurant she runs with her sister, Yan, unaware that the evening is to take a violent turn. But just when things get bad - VERY bad - Nishi has an even more surprising encounter and is forced to make a decision which opens his eyes to life's rich possibilities. With Myon and Yan in tow he embarks on an adventure of epic proportions and they end up stranded in a bizarre environment with another oddball character (sucky description but I'm against spoilers, especially in a movie like this when it's so much more fun when you haven't a clue what's going to happen). Unable to escape, they are forced to look inward and rediscover themselves (and each other), and find new ways to express themselves. The plot is as eclectic as the visual style: it's got romance, violence, sex, comedy, God, Yakuza, art, food, existentialism, a nod to Pinocchio and extinct species of fish all thrown in there.
The movie begins and ends with long sequences of very brief scenes, just the barest glimpses into hundreds of different occurences in the lives of all the major and minor characters who have some impact on the main story. It's dizzying but it highlights the main message of the movie: life has infinite possibilities, and tiny events can have huge consequences for everything that follows. But it's not all about chance - as a billboard in the background of one shot says, "Your life is the result of your own decisions." The feeling I was left with after watching is that fear will lead you into a dead end, whereas hope and passion can make anything possible. Or maybe I brought that to the movie myself, because it's what I already believed. :)
Anyway, enjoy some more screenshots! The imagery is so rich I could have taken thousands, but these are just a few of my favourites.